Welcome to Yr Hen Stablau self-catering cottage
Croeso y Yr Hen Stablau llety hunen-ddarpar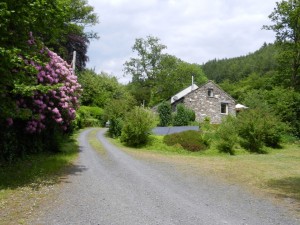 Secluded cottage in Snowdonia
This comfortable self-catering holiday cottage is tucked away in the south of Snowdonia National Park, near Machynlleth and Aberdyfi and overlooking the beautiful Dyfi Valley and estuary.
It has 3 bedrooms, sleeps 6, has wheelchair access and pets are welcome.  Regular visitors include walkers, cyclists, families with small children, birdwatchers and others who enjoy the peaceful environment.
Review March 2019: "We have really enjoyed our stay, Our 15 month old son loved running around and seeing the birds and squirrels.  The whole stay felt relaxed and calming."
Review March 2022: "We have been returning to Yr Hen Stablau for many years. The cottage is spacious and well equipped and is an ideal location, set away from everything up a private lane but easily accessible to Machynlleth. We now have an electric car and the cottage has an EV charging point which is an extra bonus!"
Availability from December 2023.   Book here for future dates
Environmentally friendly
When you stay, you  relax in a beautiful, sensitively converted 1840s stable building (Yr Hen Stablau is Welsh for The Old Stables). Our idea was to conserve a beautiful farm building, to create an environmentally friendly building and to support the local economy and culture (architects Adam and Frances Voelcker).
The holiday cottage sits in the luxuriant gardens of Pantlludw (see history), between a mountain stream and banks of rhododendron and azalea. It is near dark skies in the Snowdonia National Park and within 10 miles of Dylife Dark Skies Discovery Site in Powys (see environment).
Welsh landscape, seaside, wildlife, culture and sports activities
We are within easy reach of nature reserves, picturesque mountains, sandy coastline, scenic footpaths and green hillsides: this is a haven where you can really get away from it all.
It is also an excellent base for a more active holiday in Snowdonia – easy access to climbing, mountain biking, golf, narrow gauge railways, castles, art galleries and shops (see things to do).