Picture gallery for Yr Hen Stablau holiday cottage, Mid Wales
Reviews
2022  "The variety of birds were a delight to watch…the cottage is amazing and couldn't ask for anything more."   August

"One of our best stays in Wales for sure! We loved looking through the window to the valley and observing the birds outside.  It was a great escape from the city – no noise or stress."   December

" This being our fourth visit says everything. The cottage is well situated for its idyllic scenery and seclusion." October
"..another very enjoyable stay at Yr Hen Stablau.  Very cosy and well set up for the wheelchair."  September
2019  " A real happy place for us all.
" A wonderful house with such a beautiful garden.  From the beginning we felt as good as if we were at home – well cared for and welcomed!  The "birdshow" entranced us.
Dec 2019  " Beautiful cottage in an amazing location; made Christmas more magical. I would definitely return and highly recommend.
2016-17:  "After many years watching, we decided to go white water rafting down the Tryweryn River … great adrenalin rush, definitely recommend anyone to have a go.    August
"We particularly recommend taking the walk from here to Pennal via Dolgelynen Farm opposite – mostly along by the river. One of the nicest walks we have ever taken!  January
CYANOTYPE from Pam visited July 2021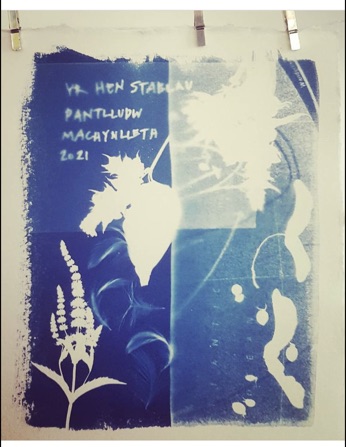 POEM from Dave, visited May 2015

Rural tranquillity     Avian agility     What's not to like?
Eco-impeccable     Fittings delectable     Great base for a hike.
Highly hospitable    Charges equitable   What's not to like?    (Squirrel – on your bike)
PS: Llyn Ruck is not a distant dream    But do take anti-insect cream.